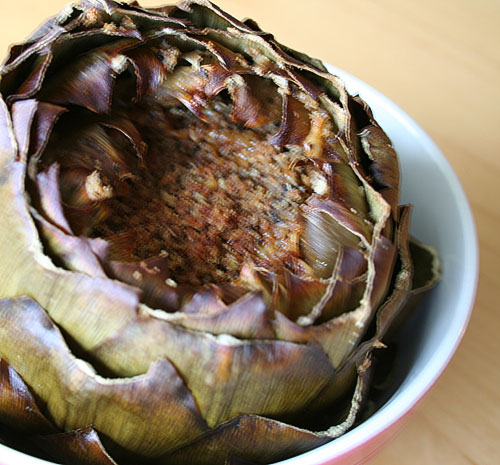 Stuffed artichokes are tasty. However, they are moderately annoying to clean out to stuff, especially compared to how easy the rest of this recipe is. One artichoke is filling for two people. Of course, that depends on how many germs you're willing to share because I wouldn't try to cut them in half.
Stuffed Artichokes
Original recipe, which is cooked in a crockpot.
Ingredients:
2 large artichokes
1 tbsp olive oil
1/3 cup parmesan cheese
1/4 cup bread crumbs
3 tbsp of lemon juice (or 1 lemon)
1/2 cup water

The hardest part of this recipe is cleaning the artichokes to stuff. Be careful, between the odd angles with your knife and the poky parts of the artichoke. You want to cut off the stem. Then you want to clean out the inside, all the hair and other gunk. This takes a while and I recommend rinsing it after you're done chopping to get any stray lingering bits.
Preheat the oven to 350°.
Mix the oil, cheese, bread crumbs, and lemon juice together. Use a spoon to stuff the artichokes with the bread crumb mix.
Put water into a large pot and the artichokes inside. Cook for 2-4 hours or until tender. Serve hot.